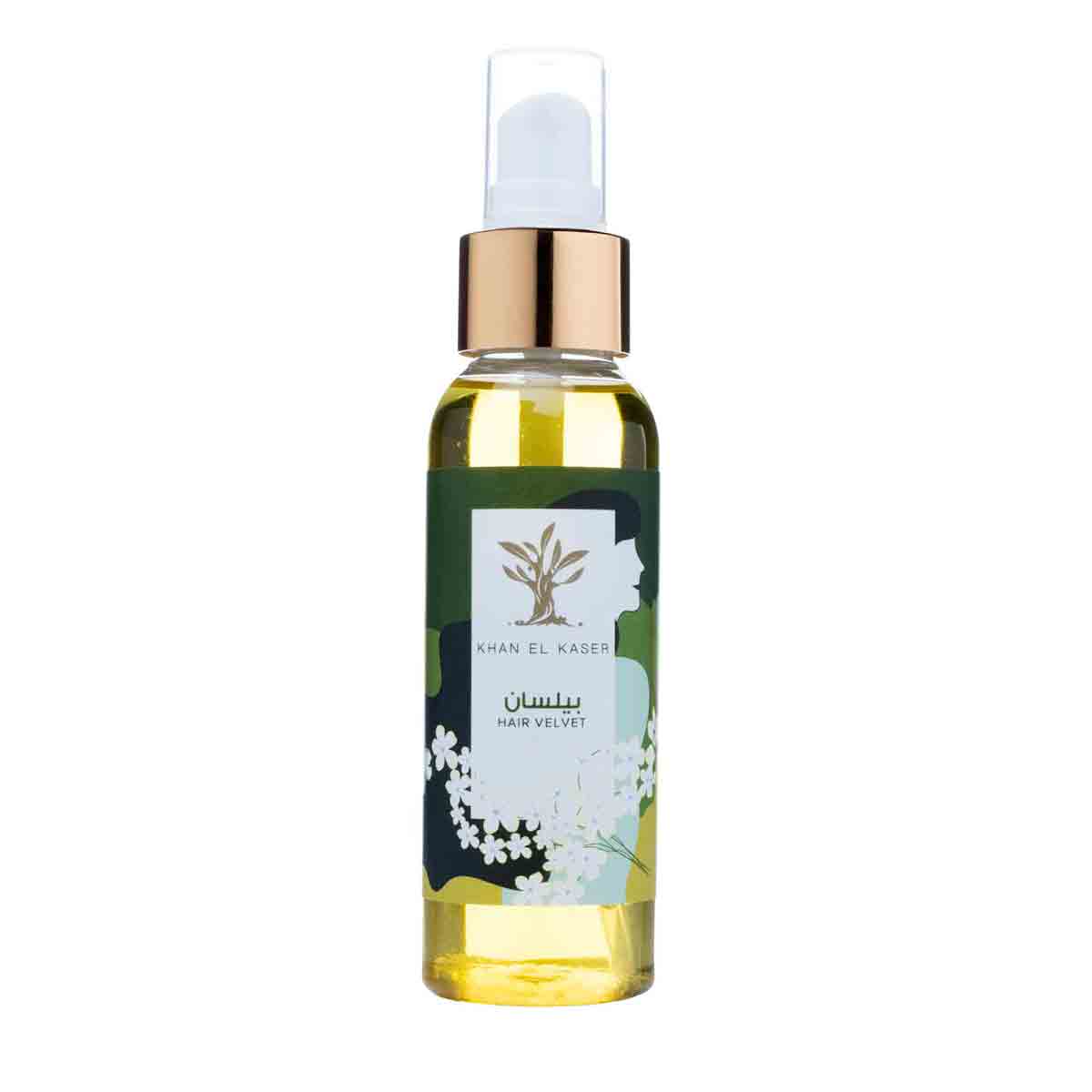 Get a 30-Day Free Trial on Our Hair Velvet and Transform Your Hair from Dull to Dazzling
Regular price
Dhs. 146.99
Sale price
Dhs. 146.99
Regular price
Tax included.
27 people are viewing this right now
Give you the softest hair possible
Natural ingredients like oils, herbs, and vitamins strengthen damaged locks.
Prevents dandruff and pimples with a nourished and moisturized scalp
Protects hair and scalp from pollution
Essential nutrients and vitamins encourage new hair growth

Guarantee safe & secure checkout
Estimated Delivery:10 Dec - 14 Dec

Free Shipping: in the UAE and Lebanon
Hair Velvet - Baylasan
Regular price
Dhs. 146.99
Sale price
Dhs. 146.99
Regular price
Description
Active Ingredients
30-Day "Empty Jar" Guarantee
Shipping & Returns
Contains
Vitamin E
, fatty acids,
proteins and antioxidants
, along with
magnesium
, which
reduce hair breakage
and
help it grow
.
It
moisturizes
the hair and
makes it shiny
and
tangle-free
.
Follow these tips to guarantee the best results:
To be applied on the hair for 1 to 2 hours before shower
Then rinsed off during shower
We believe in the power of our organic skincare products to transform your skin and boost your confidence. That's why we offer our 30-Day "Empty Jar" Guarantee - we're confident that you'll love our products as much as we do!
Here's how it works: if you're not completely satisfied with your purchase within 30 days of receiving it, simply return the empty jar, and we'll give you a full refund.
Yes, you read that right - even if you've used up the entire product, we'll still give you your money back!
We're proud of our products and stand behind their quality and effectiveness. We know that switching to organic skincare can be intimidating, but we're here to make it easy and risk-free for you. Our 30-Day "Empty Jar" Guarantee gives you the peace of mind to try our products and see the results for yourself.
So go ahead, give our products a try - we can't wait to hear about your transformation!
We're proud to offer fast and reliable shipping to all MENA countries, including Saudi Arabia, United Arab Emirates, Kuwait, Oman, Qatar, and Bahrain.
Your order will be delivered to your doorstep within 3 to 4 business days if you're in any MENA country, and 2 to 3 business days if you're in the GCC.
We want you to be completely satisfied with your purchase, which is why we offer a 30-day "Empty Jar" Guarantee. If for any reason you're not satisfied with your purchase, simply return the product within 30 days of purchase and we'll refund your money.
In addition, if you receive a product with any defects, we'll be happy to exchange it or provide a refund.
Reduces hair breakage
The combination of almond oil, argan oil, mustard oil, and vitamin E work together to strengthen hair from root to tip, reducing breakage and promoting healthy hair growth. Nourishes and prevents damage, leaving hair looking and feeling strong and resilient.
Promotes Healthy Hair
Our hair velvet is made with a unique blend of natural oils and vitamin E that penetrate deep into your hair shaft, nourishing and moisturizing each strand from the inside out. This helps to prevent hair breakage, split ends, and frizz, resulting in soft, shiny, and silky locks that are easy to manage and style.
Fights Dandruff
Mustard oil in our hair velvet has antibacterial and antifungal properties that help to fight dandruff and other scalp issues. It helps to cleanse your scalp, removing dirt and excess oil that can lead to dandruff and itchiness.
Stimulates Hair Growth
Our hair velvet is infused with a blend of essential oils that have been shown to stimulate hair growth by improving blood circulation in the scalp. This helps to nourish your hair follicles with essential nutrients, promoting healthier and stronger hair growth.
Protects Hair from Damage
Our hair velvet is rich in natural antioxidants that help to protect your hair from damage caused by environmental stressors like pollution and UV rays. This helps to prevent hair breakage, split ends, and other forms of damage that can lead to dull, lifeless hair.
Refreshes and Strengthens Your Hair
Our hair velvet has a refreshing and invigorating scent that will keep your hair fresh and clean throughout the day. This makes it a great choice for those who want to feel refreshed and energized every time they wash their hair.
FAQ
What is hair oil?
Hair oil is a type of oil to nourish and moisturize the hair. Made from natural oils, such as almond oil, argan oil, or laurel oil, and is applied to the hair and scalp to provide hydration and improve hair health.
How often should I use hair oil?
The frequency of hair oil use depends on your hair type. For dry or damaged hair, highly recommended to use hair oil 1-2 times per week. You can use hair oil once a week or every other week for oily or normal hair. Very important to not overuse hair oil as it can weigh down the hair and cause greasiness.
How do I apply hair oil?
Hair oil should be applied to clean, damp hair. Depending on the length and thickness of your hair, use a few drops of a quarter-sized amount of oil and massage it into your scalp and hair. Comb through your hair to distribute the oil evenly, then let it sit for 30 minutes before washing it with shampoo and conditioner.
Can hair oil help with hair growth?
While hair oil cannot directly promote hair growth, it can help keep the hair healthy and moisturized, leading to less breakage and hair loss. Also, some hair oils contain ingredients that can stimulate the scalp and improve blood flow, which can indirectly help promote hair growth.
Can hair oil be used on all hair types?
Yes, hair oil can be used on all hair types, but choosing the right type of oil for your hair is very important. For example, if you have fine hair, you may want to use a lighter oil such as argan oil. If you have thick or curly hair, you may want to use a heavier oil such as almond oil or olive oil.